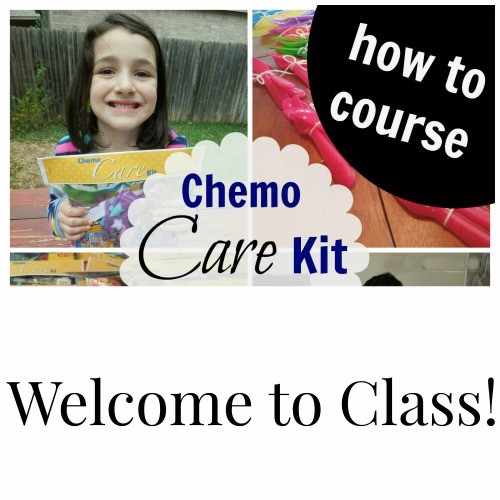 "Hello, Happy Day!" I answered the phone and immediately knew that the news wasn't good.
Silence came from the other side.

My good friend Sara couldn't even return my greeting . . . Remembering that today's doctor's appointment might not go well . . .
"Sarah, if you need to cry, do it. I will stay on the line, hugging you." As she proceeded to cry quietly, I felt lost.
Sitting down, I tried to process the immediate grief and anger I felt after hearing that another friend has a child with cancer. A daughter. A sweet curly brown haired 4 year old girl whose biggest mission in life was to keep up with her siblings. After thinking a bit, I turned toward figuring out what I could do and how to talk about it with my kids.

Cancer doesn't discriminate.
It affects all of us no matter where we are from, what we like to do, whether we are dark haired or light haired, whether we like peanut butter or not.
How Can We Help?
Putting together a Chemo Care Kit for someone going through cancer treatment is a meaningful way to take action when we might be feeling at a loss. This project is also a learning experience as it teaches all of us what it is like, in a small way, to go through cancer treatment.

This course has been developed out of a need for more information on how to host a meaningful and quality service project. Chemo Care Kits is by far the most popular service project on Pennies of Time and the one that generates the most questions and emails.
We want YOU to have timely information no matter how many calls or emails we get. So, we've put together this course for you.
Additionally, since each chemo care kit costs between $8-$12 dollars, it is important for you to have the BEST information at the beginning of the process to avoid buying the wrong items and increasing the cost or workload of this project.
This Course Includes:
9+ Videos from our President and Founder, Sheila

E-Book: More than 13 guidesheets or printables to help you in your project

Around an hour of video time, provided in easy to understand step by step segments
Sheila has guided hundreds of groups that have put together chemo care kits. That knowledge is right here, just for you. No emailing back and forth. No phone tag. Simply watch ALL the videos and then get started!
VIDEOS Include: